Hellfire Spring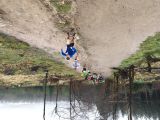 This will be a far tougher version of the traditional Hellfire race(hence the Brimstone!!) on a course designed by Jane and Graham
Wicklow
Saturday 20 January, 2018
11:00
240
6.40
4 (1,2,1) - Easy Terrain, 200M - 500M ascent, <6Km
- Route fully marked
Winter / Spring league
The course this year will have a run in and then two laps of a 2.5km loop. Total distance is 6.4km.
Sign-in is at The Merry Ploughboy, 3.5km away from Hellfire. Heading Southbound at J12 M50, take slipway left. At roundabout take 2nd exit straight through. At next Roundabout take 2nd exit, straight through. At 3rd roundabout take 3rd exit, rightwards. This is signed for The Merry Ploughboy. Travel stright uphill to the pub.
Registration is NOT at Hellfire. No cash entries on the day. Please pre-register online. Registration location TBC.

3 people minimum per car. Please car pool as much as possible as car parking spaces are limited.



The route is on hardpack fireroad and muddier trails. Trail shoes recommended.
TBC
Volunteers (Non-Running)
You need to have done 2 non-running volunteer roles in a calendar year to qualify for Leinster League finisher's prize
Volunteers (Running)
Check with race director if they have a need for people volunteering and running. Race directors need a minimum number of people available throughout the race to make the race work so non-running volunteers are preferable. While it can be helpful, volunteering in a volunteer and race capacity does not count towards qualifying for Leinster League finisher prize
Carpool